Brawlhalla's one of the great fighters, with the largest active player base. It is one of the most popular fighting games on almost any platform, with a unique approach to platform combat.  This is a free-to-play fighting game that has won the hearts of 100 million players across the globe. If you're going to play with your friends, you'll need to know if Brawlhalla's cross-platform play works to connect to other devices. You may want to take advantage of Brawlhalla's cross-progression feature as well if you're using more than one console and PC. Cross-platform play has become an increasingly famous feature in the ever-evolving world of gaming. It gives players from various consoles and devices the ability to work together, break these barriers, and expand their virtual horizons. Brawlhalla is a game that has always been a major force in this revolution. Now that we're getting into 2023, all of you are wondering if Brawlhalla really crossplays.
Well, let's dig in to find out.
Is Brawlhalla Crossplay?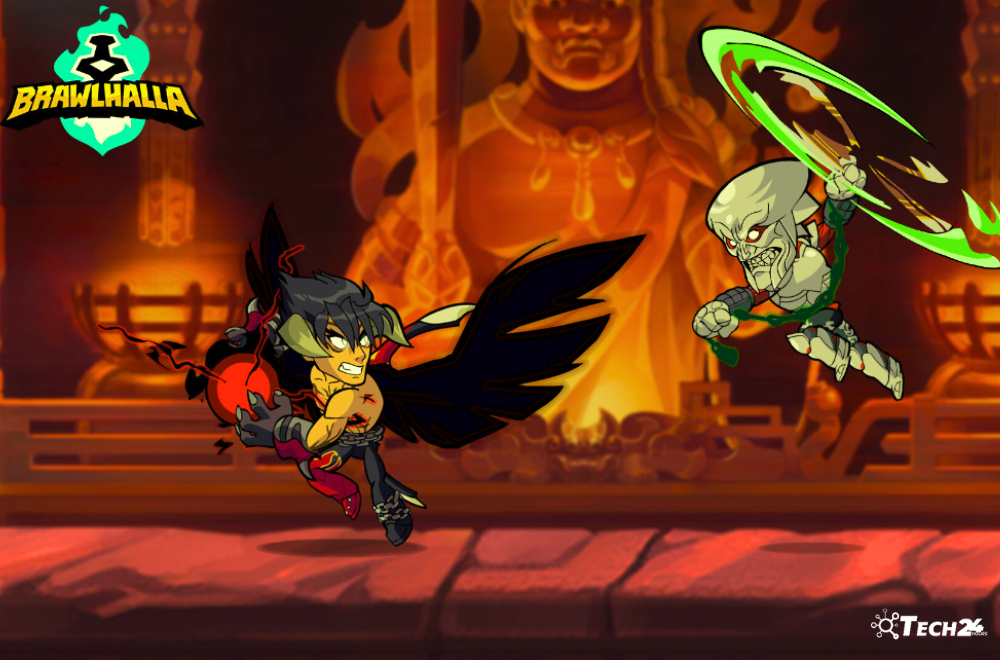 Brawlhalla's in favor of crossplay. Since late 2019, the game has supported cross-platform play. You can play with others whether you're on PS4, PS5, Xbox One, Xbox Series X/S, iOS, Android, Switch, or PC.  On any platform, you can interact with your friends. You can still join if you play on a mobile device or a top-rated free fighting game on the Switch.
Related Article: Is Uno Cross Platform?
Is Brawlhalla available for cross-platform play between PC and mobile devices?
Yes, Brawlhalla supports cross-platform play between PCs and mobiles. This enables seamless playing between players who use Mac, Windows PC, iOS, and Android. By eliminating the obstacles between PC and Mobile gamers, Brawlhalla allows friends to enjoy thrilling matches and battles on any gaming platform they choose. The commitment of Brawlhalla to promote diversity and inclusion in gaming communities is illustrated by this compatibility between the different platforms.
Is Brawlhalla cross-compatible between PC and PS4/PS5?
Yes, Brawlhalla allows players on PC and PlayStation to play together. This means that players on SteamPC, Mac, and Windows PC can easily join their friends playing on PS4 or PS5 consoles. Ubisoft, the publisher of Brawlhalla, has made it a priority to allow players to compete on an equal footing, regardless of the medium they use. This ensures that gamers can connect and battle with their friends, regardless of their preferred gaming device. The excitement and competition of Brawlhalla, combined with this degree of compatibility, only increases the entertainment factor for all concerned.
Is Brawlhalla Cross-Platform Between PS4 And PS5?
Cross-platform support in Brawlhalla allows players on PS4 and PS5 to compete against each other.This means the players who upgrade to the latest PlayStation console can still play Brawlhalla with their buddies who are on the PlayStation 4. The game developers have made sure that the gaming experience is consistent across all PlayStation consoles, so everyone can enjoy the game regardless of their platform.
Can Participants On Xbox One And Xbox Series X/S Play Brawlhalla With Each Other?
Brawlhalla supports cross-play between Xbox Series X/S and Xbox One. In other words, gamers on these two consoles can battle against each other online without any problems.  This is a welcome move by Blue Mammoth Games, as it makes Brawlhalla more accessible to a wider range of players. The expanded cross-platform functionality allows players to have a connected gaming experience across all generations of Xbox consoles.
Is It Possible For Players On Playstation And Xbox To Play Brawlhalla Against Each Other?
Brawlhalla allows players on PlayStation 4/5 and Xbox One/Series X/S to play together. In essence, players can join the same game session regardless of the media they are using. Brawlhalla's cross-platform play breaks down the barriers between players, allowing them to compete and cooperate regardless of their platform of choice.
What Are The Pros Of Brawlhalla As A Cross-Platform?
There are many benefits to Brawlhalla being cross-platform, both for players and for game developers. The most notable benefits are as follows:
Enhanced player experience:
Cross-platform play permits players to play with their buddies regardless of the device they are using. This can reinforce a more validating and accessible gaming environment.
Larger player base:
Cross-platform play can help to boost the player base of a game. This can lead to more competition, more diverse gameplay experiences, and a more vibrant online community.
Enhanced matchmaking:
A bigger player base can also lead to improved matchmaking. This is because there will be more players available to be matched with, which can result in more balanced matches.
Prolonged game lifespan:
Cross-platform play can help to extend the lifespan of a game. This is because it allows players to continue playing the game even after they have moved on to a new device.
More income for developers:
Cross-platform play can help to increase the revenue for developers. This is because it can lead to a larger player base and a longer game lifespan.
Software updates and bug fixes:
Cross-platform support can help to streamline the development procedure for developers. This is because they can focus on a single update or fix that can be applied to all platforms.
Also Check Out This Article: Is Battlefield 1 Cross Platform In 2023?
Conclusion:
Brawlhalla is a cross-platform game and will continue to be one. Blue Mammoth Games, creators of this explosive action-packed game, have been committed to delivering players with a seamless gaming experience across all media.  The cross-platform support proved to be a major factor in the game's success, as it allowed players to play with their friends regardless of their platform. Blue Mammoth Games is expected to continue to improve the cross-platform experience in Brawlhalla in 2023. This will ensure that players on all primary gaming devices can enjoy the game equally. The company has already made great strides in this area, and it is likely that it will continue to do so in the coming year.