If you are using Samsung series and you curiously want to learn how to take a screenshot on Samsung S21 Plus, then most welcome! You have landed in the right place. We would love to provide a detailed guide on S21 Plus screenshot.
Unlike other mobile companies, Samsung offers many ways to take screenshots on your S21 Plus. We are going to make them more easy and simple by telling you how to screenshot on S21 Plus.
In this article, we are going to discuss 6 different ways to take a screenshot on samsung S21 Plus. So we would suggest you to keep on reading if you want to keep yourself updated with the easy ways of taking a screenshot on S21 Plus. But before that, let's get to know about the screenshot.
What Is A Screenshot?
Screenshot is an image of a smartphone display showing the different contents on the screen. It might be an image of the whole display or taken partially.
If we explain it more briefly, you can understand it as the name refers, 'screenshot' is all about taking a shot of the screen.
Importance Of Taking Screenshots
Following are some important points which really help you to know the importance of taking screenshots.
Screenshot helps to save information in the form of an image like other images in the gallery.
You can share the data with others after taking screenshots.
You can capture a screenshot of valuable documents or images as a reference. For example, you pay a bill or fee online, now you can take a screenshot in order to keep a proof.
Sometimes, you run out of internet, in this case you can screenshot your display instead of downloading the data.
Six Methods To Take Screenshot on S21 Plus
Let's find out different ways to take a screenshot on S21 Plus.
1. Using Side-Keys Combination
If you want to know how to screenshot on Samsung S21 Plus, it is quite simple. This simplest way of taking screenshots involves your mobile's side keys.
Look at your S21 Plus's side keys panel consisting of 'power key and, up and down volume keys'. Press and hold the power key and volume down key simultaneously to take a quick screenshot.
After taking the screenshot, you can see it in your mobile gallery. Further you can share, delete and set it as wallpaper.
2. Edge Panel Method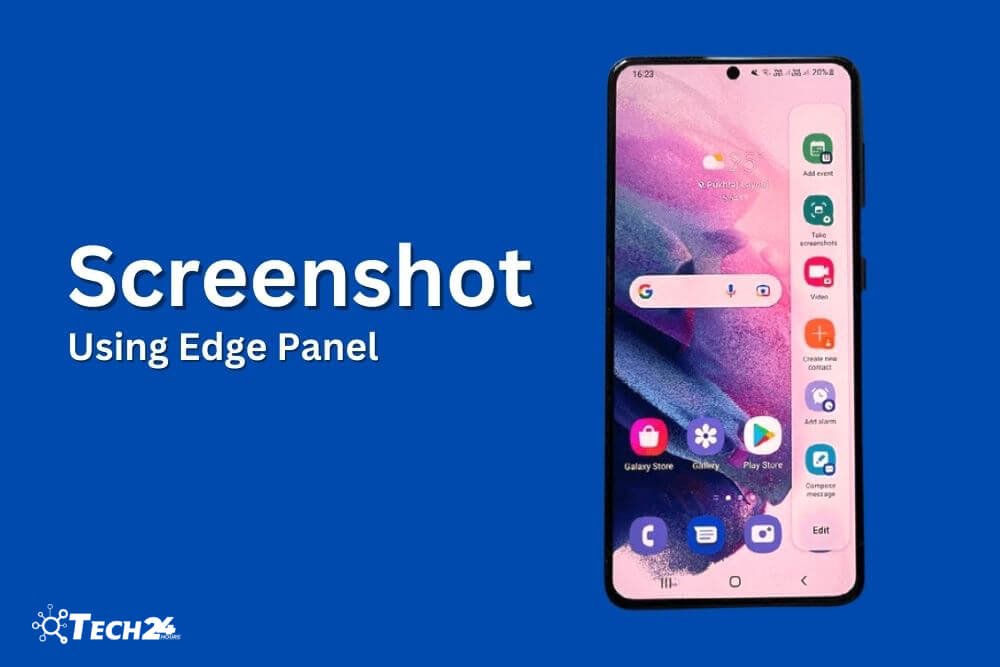 Edge Panel provides access to your favorite applications and features including screenshot option. You can take a screenshot going on the edge panel that results in a quick screenshot after pressing the screenshot widget visible on the screen.
Let's find out how to use the edge panel feature.
Go to Settings App.
Select Display.
Go to Edge Screen.
Turn on Edge Panels.
And, Swipe left to use the edge panel feature
3. Palm Swipe Gesture method
This method is pretty much easier and simple.
Go to Settings App.
Scroll down and tap the Advanced feature.
Go to Motion & Gesture control.
Find Palm Swipe To Capture.
Turn it on.
Take a screenshot swiping your hand on the screen.
4. Using Assistant Menu
This is another pretty simple and easy method to capture a screenshot.
Open Setting App
Go to Accessibility
Go to Interaction
Go to Dexterity
Finally, Enable the Assistant Menu
5. Using Google Assistant
This method involves a voice command given to google to take a screenshot.
Press and hold the home key
Then Say 'Ok Google, take a screenshot'.
After that the image will be saved in the gallery and ready to use or share.
6. Thirty Party Application
There are many applications on Google Play Store if you want to take screenshots on your Samsung smartphone. You can simply go to Google Play Store, tap Search and find one of the best screenshot taking apps for your Samsung S21 Plus.
How To Record Long Screenshots On Samsung S21 Plus?
Samsung S21 Plus also provides an option of taking long screenshots just like a recorded short video. Look the process given below:
Open Settings App
Select Advanced Features
Turn on Screen Recorder
Enable the Screenshot Toolbar
Conclusion
The screenshot feature of Samsung S21 Plus is time saving for mobile users. Instead of writing down or downloading, the data can be saved and shared by taking screenshots. Moreover, its long screenshot feature is also beneficial if anyone wants to store information at one place in a recorded form.