Dayz has been a popular game since its release in 2013. Many years have passed since then, and gamers want to know if they can play with friends regardless of their console or platform. So If you are looking for the answer to the question "Is Dayz Cross-Platform in 2023?" then today is your lucky day! You have come to the right place.
We will be exploring this topic thoroughly and providing a detailed answer. In today's competitive gaming market, knowing which games are cross-platform is essential for an edge over others. Read on as we delve into all there is to know about Dayz being cross-platform now and into 2023!
Dayz – Game Overview
Dayz is a survival game that has quickly become one of the most popular games on the market. The game was developed by Bohemia Interactive and published by themselves. It was first released in 2013, and since then, it has been released on multiple platforms, including PC, Xbox One, PS4, and PS5 (lately).
Dayz is a multiplayer game that consists of survival gameplay. Players must gather resources, food, and water to survive in a post-apocalyptic open-world environment. The game mode primarily focuses on survival and exploration, with players needing to be aware of their surroundings constantly.
Dayz has sold over 5 million copies to date, and it continues to be a trendy game for anyone looking for a challenging and immersive experience.
Is Dayz Cross-Platform In 2023?
Unfortunately, Dayz is not cross-platform in 2023. This may come as a disappointment to some players who were hopeful for a more inclusive playing experience. But every publisher must have their reasons, so why not look at a few?
Why Is Dayz Not Cross-Platform?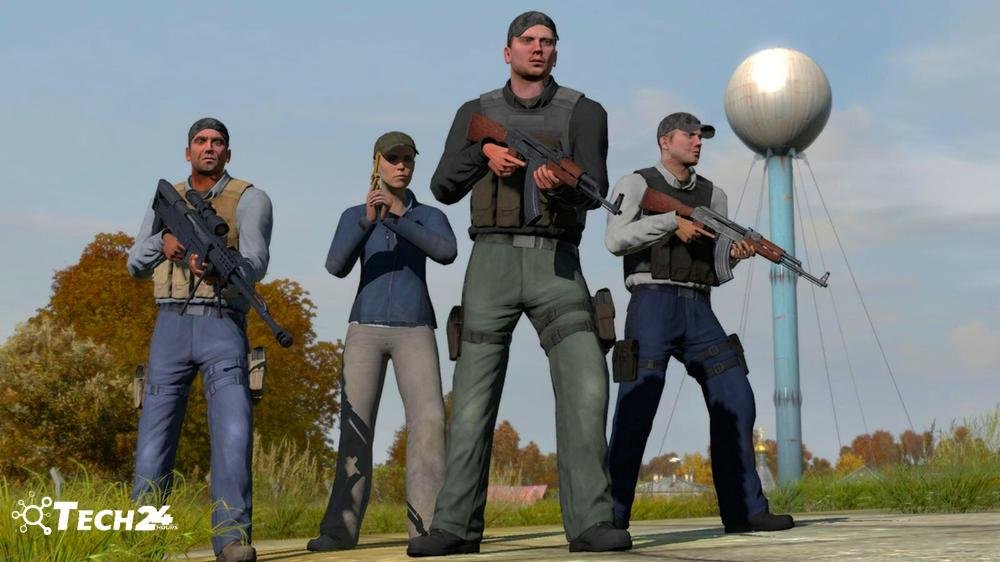 Several factors contribute to this decision. There are:
Big Budget: First and foremost, cross-platform support requires significant investment from developers and often requires sacrifices for in-game features and performance.
Different Hardware and Software: Every platform has different hardware and software requirements that add to the complexities of video game development. Bohemia Interactive is working tirelessly to fine-tune the gameplay on each forum before releasing a version that will work well on anyone's machine. The developers understand that the game's quality will suffer if they rush its release on multiple platforms without perfecting its gameplay on each platform.
Piracy Concerns: The game's developers do not want to risk piracy by allowing players on different platforms to join and play the game. Controlling piracy on a single platform is easier than on multiple platforms. Therefore, the developers believe that ensuring the game's security on one platform is as important as releasing it on various platforms.
Difference in Resolutions: Incompatibility between different resolutions can lead to gameplay issues that disrupt the game's flow and degrade the gamers' quality experience.
Different Controllers: PC, Xbox, and PlayStation use different types of controllers with different button layouts and functionalities. The developers of Dayz must consider these differences in controller formats so that players feel comfortable playing the game during a multiplayer session, ensuring that the quality game experience is not compromised during gameplay on different platforms.
Related Article: Is No Man's Sky Cross Platform?
Is Dayz Cross-Platform Xbox And PC?
DayZ, the popular survival game, has been available on both Xbox and PC platforms. However, if you ask if it's cross-platform compatible, the answer is No.
Players who own DayZ on Xbox or PC cannot join the same game servers and play together, even if they have the same game version. This can be a bummer for those who want to explore the game world with their buddies who own a different platform.
Is Dayz Cross-Platform PS4/PS5 And PC?
No, Dayz is not cross-platform between PS4/PS5 and PC, meaning players cannot play with players on a different platform.
Players can play Dayz on their preferred platform and experience the thrill of surviving the zombie apocalypse.
Is Dayz Cross-Platform Xbox And PS4/PS5?
Gamers are always eager to join forces with their friends, no matter what console they own. However, Dayz is not cross-platform between Xbox and PS4/PS5. Players must stick to their respective consoles in this survival game.
However, Dayz is available on both Xbox and PS4/PS5 separately. So if you have friends on both consoles, you can still play with them, just not simultaneously.
Also, Check out this Article: Is Astroneer Cross-Platform in 2023?
Conclusion
The decision not to make Dayz cross-platform can be attributed to many factors, including piracy concerns, differences in resolutions, and different types of controllers used on different platforms. But the Dayz team is committed to providing its players with an enjoyable and seamless gaming experience.
Therefore, Dayz's creators and developers are working hard to fine-tune the gameplay on each platform before they can release a version that will work well on anyone's machine. Once these issues have been resolved, we expect an exciting release of this popular game on all platforms, ensuring everyone can enjoy the Dayz experience.
FAQs
Are DayZ community servers cross-platform?
No, DayZ community servers are not cross-platform supported. This means players on different consoles, such as Xbox and PlayStation, cannot play together on these servers.
What platforms are Dayz available on?
Dayz is available on various platforms, including PC, Xbox One, PS4, and PS5. Each platform offers a unique gaming experience, and players can choose which option suits them best.
Is Cross-Porgression available in Dayz?
Cross-progression means the ability to play a game on one platform and seamlessly continue your progress on another. This could be from your PC to your Xbox or your phone to your PlayStation.
However, Dayz does not currently support cross-progression. While it's not the news that fans were hoping for, the game still offers plenty of survival challenges and intense gameplay that will keep players returning for more.