Far Cry 5 is an engaging first-person shooter game set in a fictional Hope County, Montana. Its immersive open-world experience has made it a fan favorite.
Cross-platform play – a feature that allows players on different gaming systems to participate in the same multiplayer games. With its increasing popularity, one of the most asked questions in the gaming community is, "Is Far Cry 5 cross-platform?". Let's find out!
Far Cry 5: A Detailed Overview
Key Features:
Wide array of weapons for combat
RPG-style branching storylines and side quests
Cooperative and competitive multiplayer modes
Map editor for customization
Diverse range of dangerous wildlife
Vehicles available for exploration and combat
Character appearance customization
In-game fishing and hunting activities
Unique resistance meter system
Ability to recruit local allies with unique skills
Co-op mode for the entire campaign
In 2018, Far Cry 5 was developed by Ubisoft Montreal and Toronto. It's the fifth in the Far Cry series. It takes place in the fictional area of Hope County in Montana, USA. Plus, it allows you to enjoy the entire game cooperatively with a friend.
Players control an unnamed deputy sheriff and work with resistance groups to free the area from a cult called Eden's Gate.
This game offers combat, exploration, and various weapons. It also features RPG elements like multiple story paths and side missions. Moreover, it provides a map editor and multiplayer modes.
The game, inspired by events like the Cold War and 9/11, was revealed in 2017. When it was released in March 2018, Far Cry 5 was mostly greeted with positive feedback. It earned over $310 million in its first sales week. By March 2020, over 10 million units had been sold. After Far Cry 5, the series continued with Far Cry New Dawn in 2019 and then Far Cry 6 in 2021.
Related Article: Is Rogue Company Crossplay?
Co-Op Feature In Far Cry 5
You can enjoy Far Cry 5 with a friend in online co-op mode. This option is available once you leave Dutch's Island.
For console players, make sure you have PlayStation Plus or Xbox Live Gold.
Here's how you join co-op:
Open the game menu.
Click 'Online', then 'Invite friends'.
Select the friend to join you.
That's it! You're now set for co-op play in Far Cry 5.
Co-op mode in Far Cry 5 allows player interaction. They can exchange ammo and medkits. The game also offers a 'friendly fire' setting. However, players need to stick together. If they separate beyond a certain distance, the game teleports the guest back to the host.
Is Far Cry 5 Cross-Platform?
Far Cry 5 doesn't offer cross-platform play. For now, you can play this game on platforms such as Microsoft Windows, PlayStation 4, PlayStation 5, Xbox One, and Stadia.
Here's the information on crossplay compatibility of Far Cry 5 for all platforms:
| Platform | Availability |
| --- | --- |
| Windows | yes |
| Linux | no |
| MAC | no |
| XBOX ONE/Series | Yes |
| PS3 | no |
| PS4 | yes |
| PS5 | yes |
| Nintendo Switch | no |
| Android | no |
| iOS | no |
Advantages Of Cross Platform
Accessibility: Cross-platform allows players on different systems to play together. It opens up more gaming opportunities.
Larger Player Base: It combines player bases from all platforms. This leads to quicker matchmaking and a more diverse gaming community.
Cost-Effective: Players don't need to buy multiple game copies for different platforms. They can play on any device with one purchase.
Disadvantages Of Cross Platform
Cross-platform play also has certain disadvantages like:
Performance: It's hard to make the game work well on all platforms. This takes time and money, and may reduce overall game quality.
Marketing: As cross-platform gaming is new, marketing can be tough due to a small target audience. Offering exclusive features to early users could help.
Implementation: Setting up a cross-platform game is complex. The technology is still developing.
Also, Check Out: Is Crew 2 Crossplay?
Is Far Cry 5 Cross-Platform On Nintendo Switch And Xbox One?
Far Cry 5 is not available on Nintendo Switch. The game's high graphic needs could be more than what the Switch can manage. Even if it were available, considering the game's current status, cross-platform play between the Nintendo Switch and Xbox One would not be possible.
Similarly, the Xbox One and other platforms like PC and PS4 are not cross-compatible for Far Cry 5. Players on Xbox One can only engage in co-op play with other Xbox One users.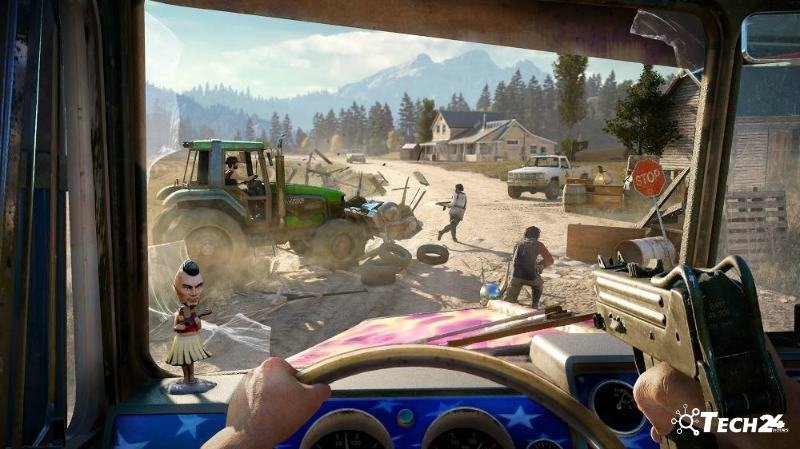 Is Far Cry 5 Crossplay Between PC And PS4/5?
Far Cry 5's co-op mode allows you to explore Hope County with a friend, but only if they're on the same platform. Currently, there is no crossplay support between PC and PlayStation 4 or 5.
Far Cry 5 Cross-Platform PC and Xbox?
Unfortunately, there's no crossplay support between PC and Xbox for Far Cry 5 either. Although Microsoft has been pushing for more cross-platform play between Xbox and PC, Far Cry 5 doesn't support this feature. Therefore, whether you're playing on PC or Xbox, you're restricted to interacting with players on the same platform.
Is Far Cry 5 Crossplay Xbox And PS4/PS5?
At the moment, cross-platform play between Xbox and PlayStation is not supported by Far Cry 5. Despite the growing trend in the gaming industry of enabling cross-platform multiplayer, Far Cry 5 maintains platform-specific multiplayer environments.
Is Far Cry 5 Cross-Platform On PS4 And PS5?
Although cross-platform play isn't supported between different gaming platforms, backward compatibility on PS5 allows PS4 players to join PS5 players in Far Cry 5. This isn't true cross-platform play, but it does provide some flexibility for players within the PlayStation family.
Is Far Cry 5 Cross Platform Between PC And Nintendo Switch?
Since Far Cry 5 isn't found on the Nintendo Switch, there's no option for cross-platform play between the PC and the Switch.
Is Far Cry 5 Crossplay On Xbox One And Xbox Series X/S?
Similar to the PS4 and PS5 situation, while Far Cry 5 doesn't support cross-platform play across different platforms, backward compatibility on Xbox Series X/S allows Xbox One players to join in the game. This isn't exactly cross-platform play, but it does offer some versatility for players within the Xbox ecosystem.
Conclusion
While Far Cry 5 provides a captivating open-world experience with intense action and intriguing storylines, it does not currently support cross-platform play. This limitation means that players can only enjoy multiplayer and co-op modes with others on the same gaming platform. Despite this, Far Cry 5 remains a popular choice among gamers, and we continue to hope for cross-platform play in future updates or iterations of the game. Until then, players can take advantage of the backward compatibility on newer consoles to enjoy the game with a broader group of friends.
FAQs
1. Why is Far Cry 5 so popular?
Far Cry 5 ranks among the top 10 recent games and is hailed as the best in the Far Cry series so far. It stands out for its breathtaking graphics, outstanding map design, and fantastic gunplay. The storyline is engaging and carries depth. What sets it apart is how even the side missions and quests significantly contribute to the main story.
2. What are the system requirements to play Far Cry 5?
The game requires a 64-bit processor and operating system. It is compatible with Windows 8.1 or Windows 10, but only the 64-bit versions. The processor should be a minimum of Intel Core i5-2400 operating at 3.1 GHz or AMD FX-6300 at 3.5 GHz. The game also needs 8 GB of RAM. On the graphics side, you should have either an NVIDIA GeForce GTX 670 or an AMD R9 270, each with 2GB VRAM and Shader Model 5.0 or better. You'll need DirectX version 9.0c as well.
3. What is co-op progression in Far Cry 5?
In co-op play for the main campaign, only the progress of the host player gets recorded and saved. So, if you join as a guest, you can return to your solo campaign later and pick up right where you left off!